Gary Hennessey is a character on Channel Ten's Puberty Blues. He is the son of Yvonne and Ferris Hennessey. He is portrayed by Sean Keenan.
Description
[
]
Gary is a local surfer and has won multiple competitions. He's one of the main boys in the 'Greenhills Gang' and often hangs around the beaches in Cronulla. In season 1, he dated Vicki until she cheated on him at Cheryl's party. Towards season 2, he and Debbie develop feelings for one another and soon make it official by having their first kiss down at 'the pipes'. Gary and Debbie went through a r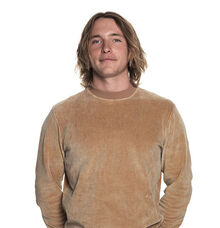 ough patch when he cheated on her when she was at boarding school they later made up but at the end of season 2. It is unclear if they are still together. 
Gary is best mates with Danny and Bruce, boys from the gang.
He comes from a broken family as his father drops in and out of his life and his mother struggles to deal with the disappearance of her husband constantly. His father, Ferris cheats on Gary's mother, Yvonne constantly and is unfaithful to her. Gary knows of this and tries his best to keep the family together by consoling his mother and convincing her to stand up for herself.
Gary's father exercises his strength by physically and verbally abusing Gary. He often swears at Gary and slaps him whenever he deems his behaviour "inappropriate" i.e: Lashing out at him when Gary tells the punchline of his joke. Gary is resilient and non-confrontational in nature and chooses not to engage in arguments with his father. This continues until the end of season 2 when he's dealt with enough of his father's anger and goes against his father with all the rage he's harboured all this time. Gary ends up hurting his father with a hand fisihing spear - ultimately, stabbing it into his leg in a fit of rage.
Gary's ending is unclear as he heads off to search for a clean beginning at the end of Season 2. Similar to Debbie and Sue, he leaves home and hitch hikes in a pick up truck to an unknown place with only a duffle bag and his surfboard. Before leaving, he engages in an argument with Debbie over Bruce's (one of his closest friends) death and storms off.
In the final shot of Gary, he looks content as he rides off in the back seat of the truck.