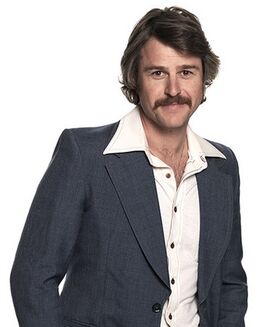 Ferris Hennessey is a character on Channel Ten's Puberty Blues. He is the husband of Yvonne, and Gary's father. He is portrayed by Rodger Corser.
Description
[
]
Ferris works as a dentist in the city. He is married to Yvonne and father to surfer boy Gary, but he is unhappy with family life and has become self-obsessed, angry, and a philanderer. He has high expectations of his son Gary, coupled with a level of competitiveness, and treats him harshly.
Biography
[
]
Season 1
[
]
Bored with his domestic married life, it becomes obvious to Gary that Ferris is cheating on Yvonne, who absolutely admires Ferris and is willing to do anything to make him happy. Yvonne even turns a blind eye when Ferris starts abusing Gary and treating him harshly. It is revealed that Ferris is having an affair with a young woman named Celia, but things turn out poorly and the relationship ends. In the season finale, Ferris drives away and abandons Gary and Yvonne.
Season 2
[
]
Ferris eventually returns, and Gary comes home to find his parents having sex in the kitchen. Although Gary wants Yvonne to kick Ferris out, Yvonne tells him that she can't because the house belongs to Ferris. Ferris decides that he is going to be a good husband, but finds out that while he has been gone (and had sex with over 30 women), Yvonne had maintained a relationship with a man named Graham. At the dinner table, Ferris berates Yvonne for having sex with another man in the same house as Gary, and makes her apologize to Gary.
A few nights later, at the club, Ferris meets Graham and is not very subtle. When he and Yvonne are in the car, Ferris sees Graham and follows him with his car until Graham is hit by another car, driven by Nathan Snr. Yvonne panics, but Ferris tells her to stay in the car. Ferris is pleased with the fact that Graham is kept at hospital where it is revealed he may never walk again, explaining that he was just protecting his marriage.
After turning manipulative towards Yvonne and trying to break down her new personality so that she turns back into the timid woman she once was, Ferris begins to go back to his cheating ways and tries to hit on Pam, until she punches him in the face. When Gary leaves and lives with his friends, Ferris arrives to take him home, but Gary stabs Ferris in the leg with a harpoon and tells his father how he has always been miserable with them. When Gary decides to leave town, Ferris says "That's good" to which a distressed Yvonne replies, "Shut up Ferris. Shut your stupid, damn mouth." finally standing up to him.
Appearances
[
]
Season 1:      1, 2, 3, 4, 5, 6, 7, 8
Season 2:      3, 4, 5, 6, 7, 8, 9